About Us
What Drives Us?
Our philosophy is simple: Tell The Story
In everything we photograph we strive to Tell The Story in the most interesting, and least evasive way possible. Whether we are photographing a corporate event, reunion, birthday party, wedding, or even a portrait session – we aspire to find the story, capture it, and present it with excellence.
We then guide our clients towards printing the "best of the best images" that encapsulate the day's events and embody it's essence. Often times our printing process is done on-site using high speed lab quality printers. However, whether we are hired to print on-site or simply capture the event for digital delivery we hold fast to one simple goal, which is to: "Capture Moments That Can Be Enjoyed For Lifetimes".
---
What Are We Passionate About?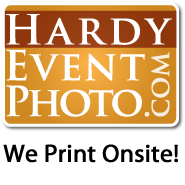 Over the years, we have participated in all aspects of photography including lifestyle, nature, landscapes, architecture, travel, and more! These different genre's have made us more well rounded photographers, but we found that we enjoy photographing people the most. As a result, we have travelled up and down the east coast photographing people engaged in various types of important life events.
This lead us to our greatest passion – Event Coverage with an emphasis on on-site print photography.
We love portrait photography but we especially love photographing a lot of people at events and seeing the their smile when print their photo within seconds and hand it to them for a lifetime!
We still photograph head shots, family portraits, sports, the occasional pet, architecture, and other non-event photography under the David Hardy Photography brand. That is why we have maintained that name and we will continue to do so. However, event photography with an emphasis on printing onsite is what drives us the most for now.
If you want The BEST Event Coverage possible or The BEST On-Site Print Photography Service available – Hire Us Today!